Our Mission
To redefine and expand Pasifika entertainment so that our creatives can thrive, evolve, and drive innovative storytelling that honors the richness and diversity across Melanesia, Micronesia, and Polynesia.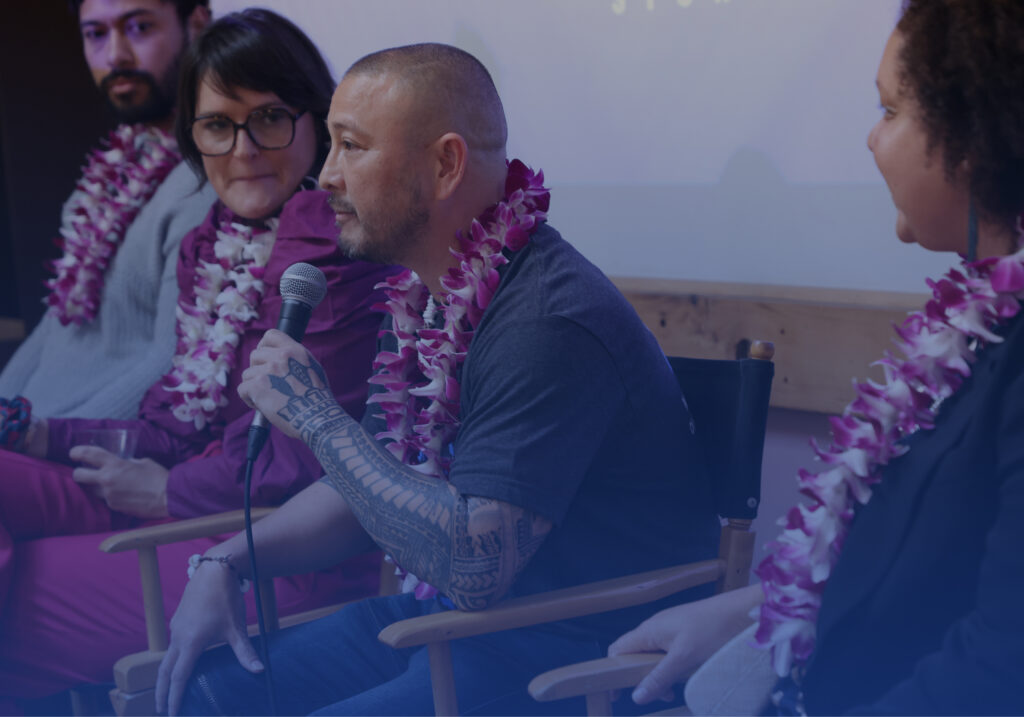 Pasifika Entertainment
Advancement Komiti
Objectives
0

PEAK supports and uplifts Pasifika talent in three ways:

01

Fostering community and utilizing industry networks.

02

Offering cultural consulting and training workshops.

03

Providing development opportunities.
Consultations & Referrals

Pasifika experiences are so vast within each island nation of Melanesia, Micronesia, and Polynesia. Our people are not a monolith, so it is extremely important for PEAK to ensure integrity, authenticity, and nuance when it comes to our storytelling and representation. From studio feature films to video games, PEAK offers cultural consulting on a wide range of projects and can connect you to Pasifika talent and experts across the board.

Cultural Workshop & Trainings

PEAK can host presentations, workshops, or moderated discussions centering Pasifika experiences in Hollywood. We cover everything from the history of Pasifika representation and problematic narratives to best practices and possible solutions. Sessions include space for audience engagement and can be catered to the needs of your organization. We can deliver them virtually or in-person (with COVID-safe protocols).

Services Include (But Are Not Limited To):

Script Consulting and Cultural Sensitivity Reading (Episodic, Feature Films, PSAs)
Cultural sensitivity review of Merchandise and Consumer Products
Early Cut or Rough Cut and/or Storyboard Reviews
Talent referrals (writers, actors, directors, producers, choreographers, below-the-line)
Referrals to Cultural Experts
Referrals to Translators and Language and Dialect Coaches
Leadership
Kristian Fanene Schmidt (he/him)

Kristian Fanene Schmidt [or Krit] was born and raised in Porirua, Aotearoa/New Zealand while both his parents hail from Samoa. He earned a conjoint degree in Law and Arts majoring in Pacific Studies from the University of Auckland and a Master's in Education at Lehigh University as a recipient of the prestigious Fulbright scholarship. In 2014, Kristian shifted gears and went from lecturing in Pacific Studies to hosting for MTV Australia as a VJ. Since beginning his career in television and entertainment, he has relocated to Los Angeles where he is now a writer, host, and consultant, contributing to a number of media outlets and organizations such as Washington Post, HuffPost, Paramount, Sundance, Amazon, Them, GLAAD, Starz, Riot Games, BET, Spotify, Rotten Tomatoes, Netflix, The Root, BuzzFeed, Extreme Reach, NQAPIA, and Think Tank For Inclusion and Equity. His work covers everything from Pacific Islander representation and cultural appropriation to LGBTQIA+ issues and the impacts of colonisation. Krit continues to follow his passions for education, art, and advocacy in working towards equitable outcomes for people from communities that mirror his own identity and upbringing as a young, queer Samoan.

Executive Director / Co-Founder

Kristian Fanene Schmidt (he/him)

Averie Joy Maikalima O Makua Huffine (she/her)

Averie Huffine started her career in television as an NBC Page where she learned the network and studio ropes. Since then, her focus has been exclusively in producing and development, previously with Pascal Pictures, where she helped create an entire television department from the ground up and brought in the prestige project BENEATH A SCARLET SKY with Tom Holland attached. Prior to Pascal Pictures, Averie worked at Invention Films, and for Executive Producer Sara Colleton, where she worked on Bryan Fuller's HANNIBAL and the last season of DEXTER. She was previously the Head of TV at BOOM! Studios, where she helped shepherd two projects to series (JUST BEYOND and MECH CADET) - the first in the company's history - as well set up multiple projects. She is now the Head of Development and a producing partner at Mandy Moore's production company, Roll with the Punches. She paid her own way through community college before receiving a scholarship and transferring to Chapman University where she majored in Theater Performance & English Literature. Averie is Native Hawaiian and passionate about telling and uplifting Kānaka Maoli stories. Additionally, as someone with chronic illness, she is an active member of the Arthritis Foundation and has raised over $30,000 for autoimmune research and care since she began volunteering with them. She does archery on the weekends.

Board Member

Averie Joy Maikalima O Makua Huffine (she/her)

Aisea Laungaue (he/him)

Aisea Laungaue's career has spanned the intersection of marketing and entertainment, most recently as Creative Executive at CAA in Los Angeles, where for 3 years he worked to develop cultural strategies for a diverse range of corporate and talent clients, ranging from boy bands and film directors to diet soda and whiskey brands. In his time there, he brokered marketing partnerships for a variety of different content creators, including J.J. Abrams/Bad Robot, Chris Hardwick/Nerdist, Simon Cowell/Syco and Tim & Eric/Sarah Silverman/Michael Cera/JASH. Before that, he was Head of Planning at Anomaly New York where he led global marketing and innovation strategy for clients including Diageo, Pepsi and P&G. Aisea started his career in his native Australia at Saatchi & Saatchi Sydney. Having worked in New York, Singapore and Sao Paulo, Aisea now proudly calls Los Angeles home.

Board Member

Aisea Laungaue (he/him)

Dana Ledoux Miller (she/her)

Dana Ledoux Miller is a Samoan writer/producer. She was the co-showrunner of Netflix's THAI CAVE RESCUE Limited Series produced by SKG and Jon M. Chu. Previously, she was an Executive Producer on LAST RESORT for Seven Bucks Productions and Feigco Entertainment as part of the Break the Room Initiative and set up at Quibi. Prior to that, she's written for AMC's KEVIN CAN F*CK HIMSELF and LODGE 49, as well as ABC's DESIGNATED SURVIVOR, Netflix's NARCOS and HBO's THE NEWSROOM. She is a graduate of the University of Hawai'i at Manoa and was born and raised in Long Beach, CA.

Board Chair / Co-Founder

Dana Ledoux Miller (she/her)

Ianeta Le'i (she/her)

As Senior Manager for the Sundance Institute's Indigenous Program, Ianeta Le'i's focus is to identify and support emerging Indigenous filmmakers and their stories from across the U.S. and globally.  She manages the implementation of all Labs, Fellowships, and Intensives, as well as facilitates outreach and engagement efforts. Raised in Waialua, Hawai'i, she previously worked at Pacific Islanders in Communications, managing non-fiction programs and content for public broadcast.  Ianeta is a graduate of Brigham Young University with a degree in Sociology, minor in communications, and received a Master of Public Administration degree from the BYU Marriott School of Management.  She is also the founder of Kaioe Consulting, LLC - an independent contracting company dedicated to amplifying Pacific Island voices in media.

Board Member

Ianeta Le'i (she/her)

Grant Torre (he/him)

As the VP of Film Development & Production at Stampede Ventures, Grant Torre packages and produces feature films. Current projects include the upcoming K-POPS!, Anderson .Paak's directorial debut, the Netflix animated musical Prince of Port au Prince starring Wyclef Jean, and the upcoming film Space Cadet starring Emma Roberts. Grant recently produced Max Chernov's Going Places starring Ethan Cutkosky and Spence Moore on behalf of Stampede Ventures. Grant is Chamorro and Filipino and grew up in a mixed-race household in Torrance, CA before studying at Swarthmore College where he majored in Film and Media Studies with a minor in Psychology. Grant is also a 2022 CAPE Leaders Fellow, which focuses on developing Asian and Pacific Islander voices in the entertainment industry by equipping the next generation of creative execs with the skills and professional network to break into VP ranks. Grant started his career in the CAA mailroom before moving into the Motion Picture Literary department.

Board Member

Grant Torre (he/him)

Kerry Warkia (she/her)

Kerry Warkia (Papua New Guinean/Scottish) grew up in Papua New Guinea with her two older sisters and parents before moving to Aotearoa where she is now a prominent producer at the forefront of some of the nation's most innovative content across film and television. In 2016, Kerry produced the ground-breaking feature film, WARU, made up of eight vignettes in collaboration with nine wāhine (female) Māori film-makers, making its international debut at TIFF. Her second feature film, VAI, was set in seven Pacific Island countries and made in collaboration with 9 Pacific va'ine (female) filmmakers, premiering at the Berlinale Film Festival 2019. Kerry was acknowledged as "Woman to Watch" at the 2014 NZ WIFT Awards, she was awarded the 2017 SPADA Independent Producer of the Year Award, and she is the honoree for the 2022 HIFF Trailblazer Award - a testament to Kerry's determination to tell a diverse range of stories that ignite her passion. Kerry was also at the helm of 2020's LEGEND OF BARON TO'A, 2022's KĀINGA and the AMC series GOOD GRIEF. Keep an eye out for the feature film, RED, written/directed by 8 female Australian Aboriginal writer/directors for ScreenWest as well as MAKAWALU, written/directed by 8 Native Hawaiian filmmakers. When Kerry isn't producing, she has a passion for mentoring young female producers.

Board Member

Kerry Warkia (she/her)